Having days off, after a few weeks of really hard works, makes them feel a million times more worthwhile.
I spent my 5 days off doing what I like to do the most…relaxing!!
After a Tuesday night rendezvous with Erin to watch the fashion show video, as well as my TV interview, I went home feeling stress free and relaxed. There is nothing like the anticipation of a few days off to put you in a really good mood. I crawled into bed earlier than usual, only to awake 10 hours later.
I was tired all day Wednesday, as I put my body through a recovery routine of watching my favorite Soap Opera (Days of our Lives) and eating my favorite lunch time meal (Velveeta Shells and Cheese). It was a perfect beginning to a perfect week end.
On Thursday I awoke bright and early to drive to Burlington to pick up my mom for our day of pampering. We were going to spend the day at
Fusion Salon and Day Spa
in Lake Geneva. Our 5 ½ hours at the spa included a body elixir complete with body exfoliation, massage, and 15 minute hot bath. We also indulged in an hour facial, a fabulous spa lunch, scalp treatment and shampoo, hair style and makeup touchup, and finally a fabulous pedicure. It was the perfect place to distress ourselves! We finished up the day with margaritas and appetizers at the Cactus Club then headed home to vedge on the couch to some Chick Flicks (not my first choice, but I humored my mother).
The rest of my weekend involved a number of cultural activities. On Friday Tara and I went and saw Memoirs of a Geisha at the Mayfair Mall Theatre and I absolutely loved it of course. I had just finished reading the book and was dying to see the movie, so Tara took me to see it. The book was definitely better but the movie was great as well. I just love Eastern Geisha costume!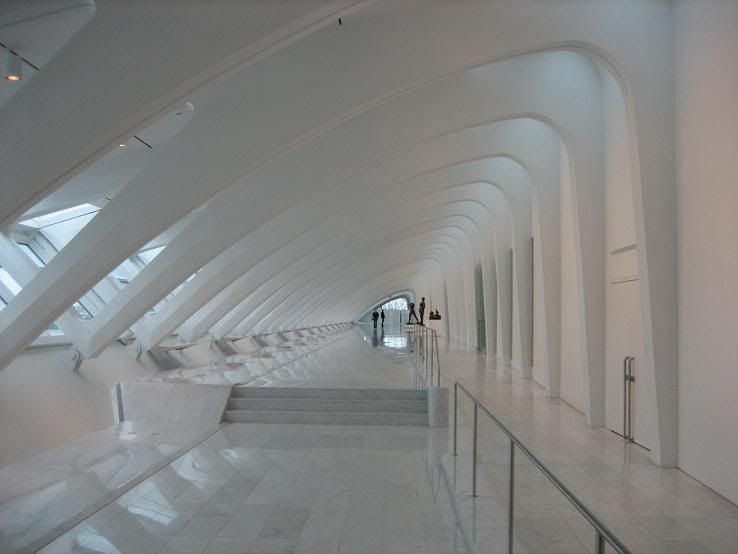 Saturday Tara and I headed downtown with our first stop being the Milwaukee Art Museum. I unfortunately can't say that I have much of an appreciation for art but it was still a great experience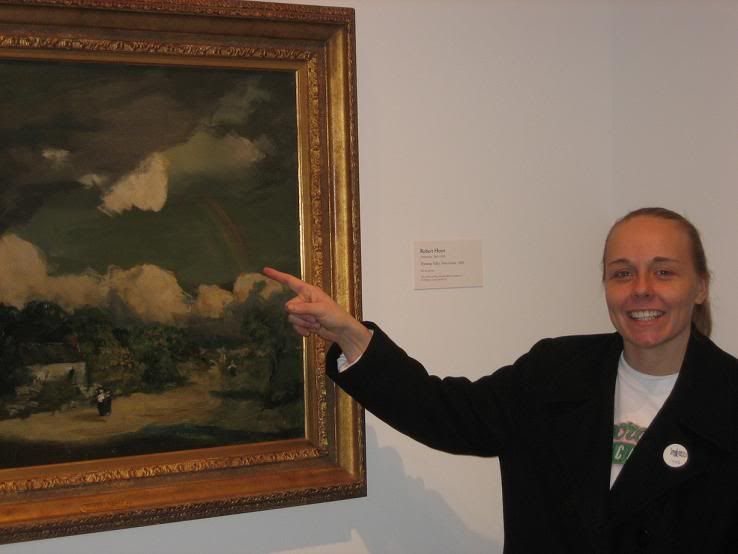 none-the-less. Even if you aren't a huge art lover, the building itself is such an aesthetically pleasing structure that it alone could merit an entire visit just to study its architectural greatness! I was quite fond of the building =) Much more than the paintings on the walls. Tara did manage to find a few that she really liked, including one with a painted rainbow in it…go figure.
We finished off the Art Museum tour with lunch at the Museum Café which has fabulous sandwich wraps. I highly recommend it! Tara and I chatted over our Chicken Caesar Wraps, BLT Sandwiches, and herbal teas and people watched as the intellectuals of Milwaukee came in and out. For those of you sensitive to the people in your surroundings (i.e.: ERIN =) ), the Art Museum may be the perfect place for you to spend your day. There are well-kept people everywhere!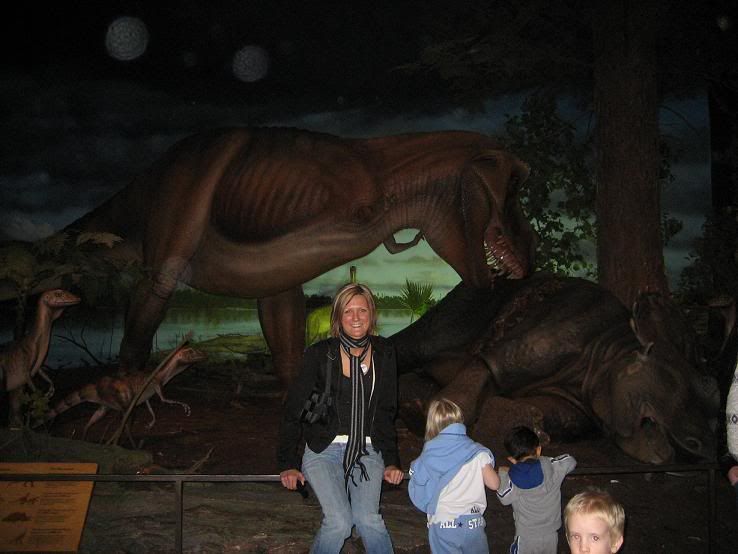 After the Art Museum we headed even further downtown to visit the Milwaukee Public Museum, a favorite Milwaukee spot of mine….well, it used to be anyways. I was so excited to show Tara what I thought to be one of the greatest places to spend an afternoon. With the streets of Milwaukee, the large dinosaur exhibits, and the many levels of interaction with Milwaukee past and present, what could be better! Unfortunately, the museum hasn't changed a bit since I was a little girl and I found most of the exhibits to be rather old and tiresome.
The streets of Milwaukee still have granny rocking away on her rocking chair, the Native American exhibit still contains scantily clad Indians harpooning Buffalo while a toy rattle snack rattles in the distance, and the rainforest exhibit is still playing the sounds of crickets and frogs that they have been since I was a little girl…and apparently well before that. It's sad to think that this place may in fact be shut down but I guess I can see why. While they do receive their occasional special exhibit, such as the new Vatican exhibit which is currently running, the majority of their exhibits have been there for an absurd amount of time and they're really quite dated.
I remember walking through the museum in awe and wonderment at just how cool the place was, but this weekend I found it to be just old. I felt bad as I'm sure Tara was quite disappointed seeing as how much I had talked up the museum, but how was I to know it'd lose all of its nostalgia as the years went on! =)
After the museum we headed for home and bailed on dinner plans as my back was in very rough shape. I blew it out this weekend, don't ask me how, and I was in a lot of pain. So we opted for an evening in with our favorite Chinese and some home made martinis.
Sunday was spent lounging around and a quick trip to Mayfair mall to pick up some much needed items. I needed to go to Barnes and Nobles to pick up a few books, including a book on fasting/detoxifying/purifying which I plan on doing come next week. A 7-Day detox plan is something my body definitely needs right now! I only hope I have the will-power to follow through with it all.