Today, a week's worth of festivities has finally caught up with me. My throat hurts, my body aches, and I really could just sleep. But alas, it's summer and it's summerfest, and rest is not on the radar until early next week. Yes, I am a Summerfest junkie. There is no better time to me than a cold beer, great friends, and a night of fabulous food and music. I feel so lucky to live in a place that for 10 days out of every year, I can pay my $15 and access hundreds of different bands. Not many other places can boast something so marvelous. Not to mention, for anyone who loves people watching, what better place than in Wisconsin! Summerfest has some of the best people watching EVER. In just a few hours you'll see a great mixture of many different types of people. Thanks to the likes of Nine Inch Nails playing on the same night as Dirks Bentley, you're bound to see a wide aray of people. It's great!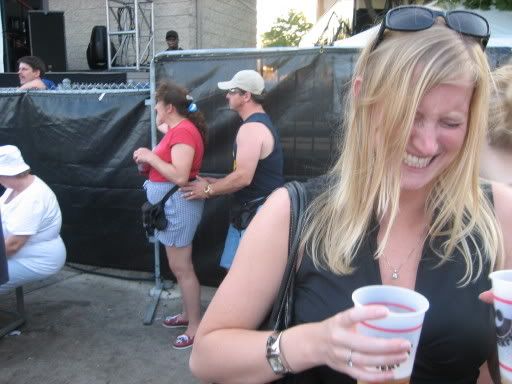 I've been there three days so far, and have three more lined up. Thursday's outing was by far the most intense but Sunday's trip was equally as entertaining. Katie, her sister Julie, and Julie's friend showed up to my apartment around 6:00 and we headed down to the grounds, Cabby top down, boppin' away to the sounds of Brittney and Rihanna. Parking is always absurd around Summerfest, but luckily we found a lot close enough spot for only $7 (a steal of a deal).
We started off the night with…Saz's of course…and made our way to the Harley Davidson Stage to watch Pat McCurdy perform (One of Katie's favorites). He was AWESOME. He had this unique gift of being able to get the crowd jumping and singing to anything he decided to spit out of his mouth. I laughed hysterically as I watched the crowd turn from hick to hip hop in a matter of seconds and they laughed along the entire time. He had quite the following and not to mention the Dirks Bently concert had begun to draw quite the crowd at the stage as well, so by 8:30 we were pretty much trapped on our bleacher seats. I guess we were staying for the concert =)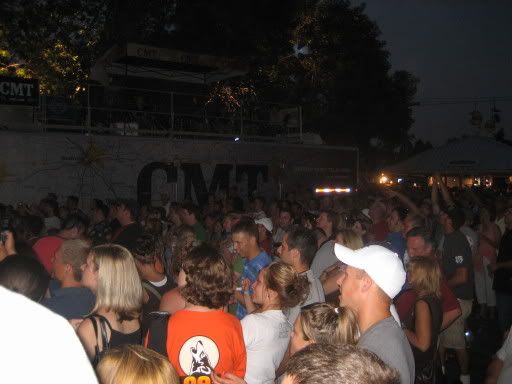 At 9:00 A CMT producer came on stage and informed us all that this specific concert was going to be televised on July 16 and we laughed at how random it all seemed. Here we were, stuck on these bleachers, and were about to be televised on national television. I love Summerfest. =)
The concert was awesome. I had never heard of Dirks Bently prior to the concert, but I left a full fledged fan. I even went out and bought his newest CD the next day. He was personable, and fun, and super cute. Minus the drunken morons that frequent Summerfest, we girls managed to have a fantastic time.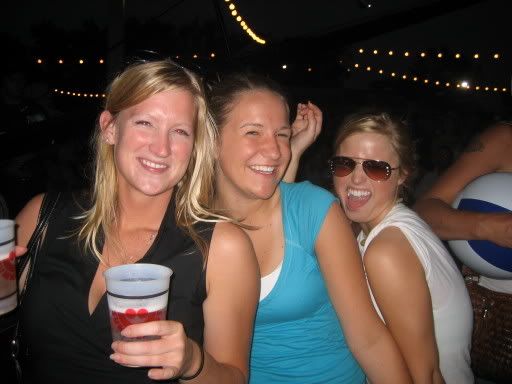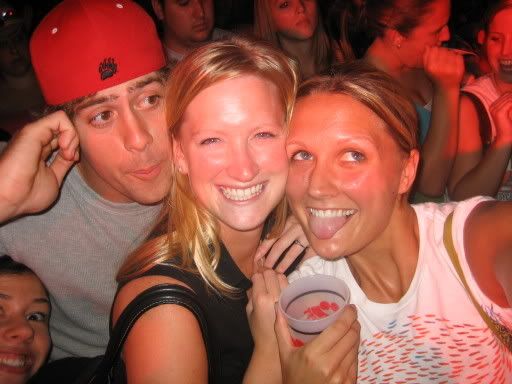 My third trip to Summerfest came a bit spontaneously. Tara and I woke up early Tuesday morning and decided we wanted to go see Kenney Chesney that night. 10 minutes later, we had 15th row seats…I was pumped. Before the concert however, we had plans to meet up with Katie and Mary at Miller Park for the brewer's game that afternoon. We met them in the Petit National Ice Center parking lot at 10:00 and made our way to the stadium.
Only in Wisconsin can you enter a place at 10:00 in the morning, and find the parking lot full of people with grills, lawn chairs, and plastic footballs. If there's one thing us 'sconies are known for, it's our ability to drink. *cheers to us* ha ha.
Anyways, we grilled out and drank in the parking lot until well after the 4th inning and finally made our way inside the stadium. It was Bobble Head Day and we were WAY excited about leaving with our free little toy. However, we soon realized that you cannot expect stock to remain well into the 5th inning and so we left instead with a blue "rain check" for our bobble heads. We were a bit disappointed.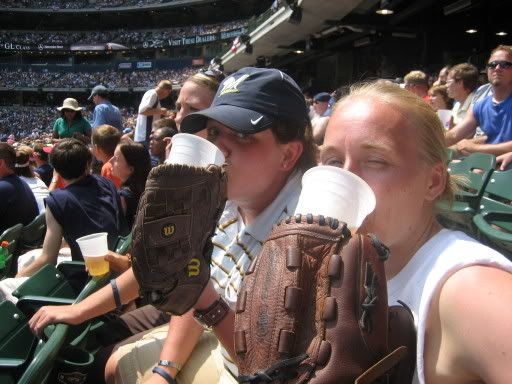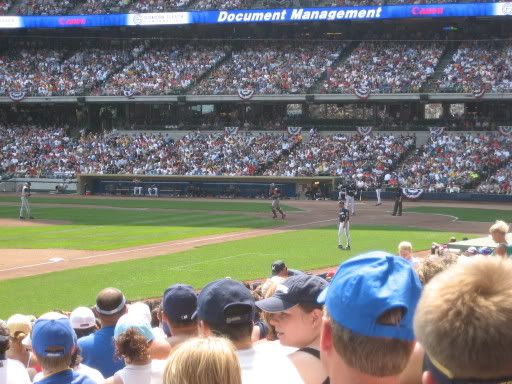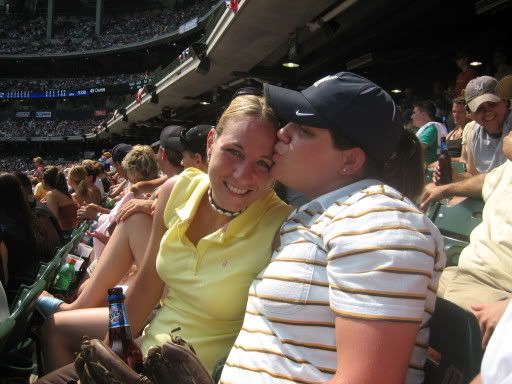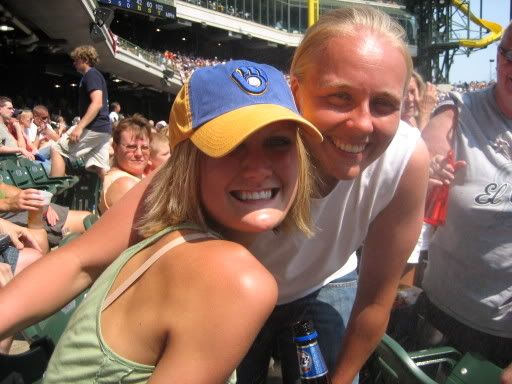 We left the stadium at the top of the 9th inning, still bitching about not receiving our Bobble Heads. We decided to wait out the crowd and play a few games of cards outside our car and we ended up meeting a group of really great people who were waiting out the crowd as well. A nearby Chicago girl had heard us all bitching about how we never received our Bobble Heads, so she came over and dropped hers off at our table…she was never going to use it again. We were like kids in a candy store. I have never seen four grown women more excited about a Bobble Head in my life! We took pictures, and named it, and talked to it…it was a little ridiculous. But I suppose that's what alcohol will do to you sometimes =)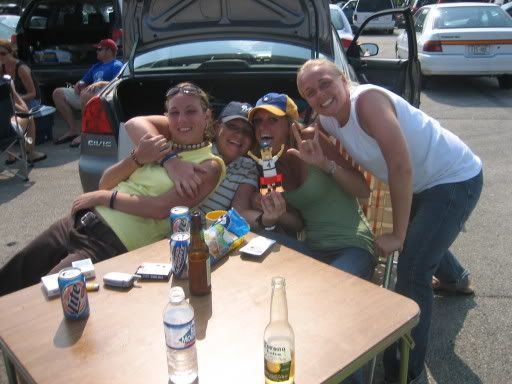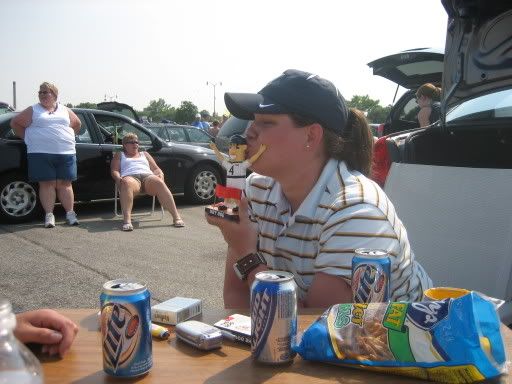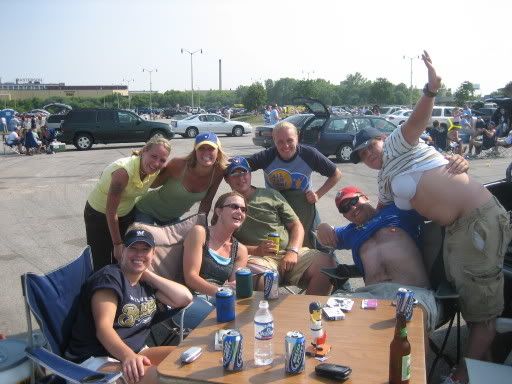 After the game, Tara and I made our way to Summerfest and soon after to the Kenney Chesney concert at the Marcus Amphitheatre. We had fantastic seats (as we usually do when it comes to Kenney) but I was a bit disappointed in the concert itself. The entire show just seemed awfully random to me. Generally when I go to a concert, the headliner lets you know that he's going to be starting…in some way. The lights go off, the music plays, there's a moment of anticipation. But for whatever reason, there wasn't any of that. Suddenly I just hear "Summertime" playing, and I look behind me and he's standing on some bleacher singing in the middle of the theatre. What?! Um...okay there's Kenney. As the rest of the concert went on, random people came out and sang with him. Sugarland. Why? Uncle Cracker...from where?! I just found myself trying to stay focused and enjoy what was going on, but was being way over stimulated =)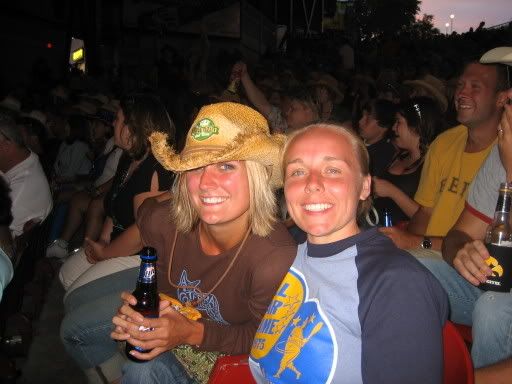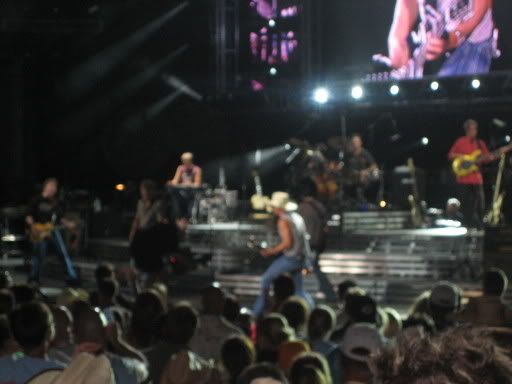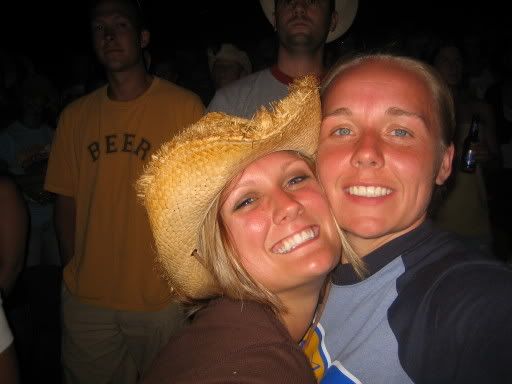 Regardless of the randomness of the concert, I enjoyed myself immensely. It was the best Fourth of July I've had in a long time. I love summer! I'm so happy that it's finally here.