Every year, for the past 5 or 6 years, my parents have driven up to Spring Green, Wisconsin to attend the performances at the
American Players Theatre
. For the first time last year, my brother and I were able to attend one of the plays with them, Tartuffe, and I've been hooked ever since!
The venue consists of a cozy outdoor theatre setup with about 1100 auditorium style seats horseshoed around the stage. The theatre sits on top of a hill, in which you have to hike up a wooded path to get to, and surrounding the path to the theatre are little picnic areas in which you can utilize prior to the shows. Last year we brought our picnic basket and some wine and sat and enjoyed the nature before heading up the path to the theatre. This year however, we were crunched for time and arrived to Spring Green just in time to hear the music playing at the top of the hill, signaling the patrons to take their seats.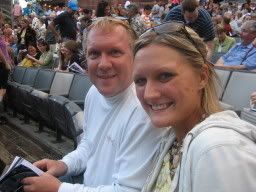 This year, I saw Romeo and Juliet (my first time seeing a live performance of it) and I must say I've never seen Romeo and Juliet portrayed better! While the actor playing Romeo was a bit weak, the rest of the company did a fantastic job portraying the intensity and the crazed feelings these young lovers had and the stage direction of the play was just phenomenal! I loved it so much more than any movie creation of the story.
It's always a bit intimidating walking into the theatre due to all the scholars, professors, and literary types that frequent the shows, but luckily the popularity of the Romeo and Juliet story drew quite a younger crowd, so I was able to relax a bit more than I was able to while seeing Tartuffe. =)
I'd love to make it up one more time this summer to see another show, but time is crunched the way it is so I may have to settle for an early show next season.