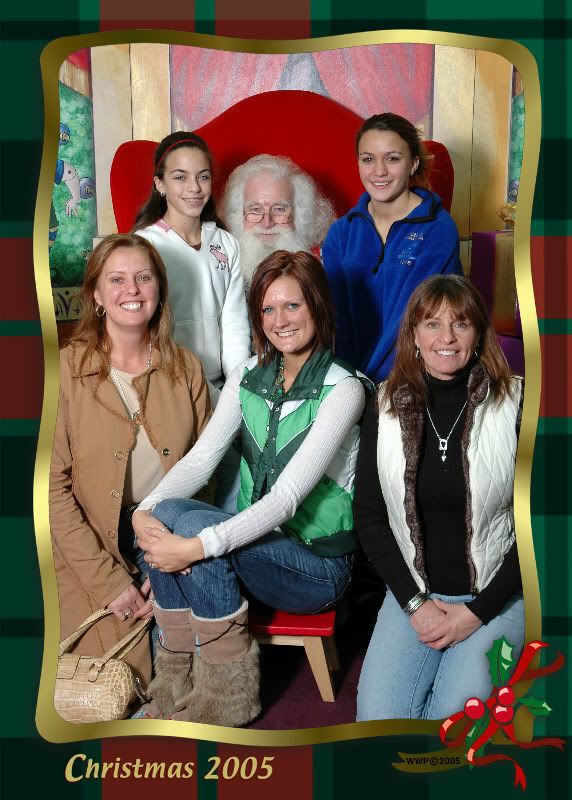 This first weekend in December brought in many holiday festivities for both myself, my friends, and my family.
Thursday I enjoyed my day off at Mayfair Mall, with my Aunt Linda, Cousins Bridget and Carol, and of course my mom. We met up bright and early for breakfast at 9:00 and then Christmas shopped all morning and afternoon. We even took a detour break for a plop on Santa's lap, and lunch at Panera. YUMMY!
At 2:00 my mom and I left the Koshick girls to head to Brookfield for our facial appointments at Azana Salon and Spa. We LOVE a good facial (we're becoming quite the connoisseurs). The salon is actually really great and we were pleasantly surprised that such a great facial came at such a reasonable price! We'll definitley be back.
After our facials, my mom and I parted ways and I headed to
Target to purchase a few last minute Christmas items: Christmas Tree, a few ornaments, and of course some wrapping paper. I was then off to my apartment to spend the evening decorating my tree and wrapping my newly purchased presents. Ryan came down and helped me "fluff" the branches of my artifical tree and Nikki and Adam came strolling in a few minutes later with plans to head to the Hi-Hat for a martini or 2 (who could pass up THAT invitation). I finished putting the finishing touches on my tree, then headed to meet up with them for a Martini which quickly turned into one martini, one lemon drop shot, and a bottle of Spotted Cow.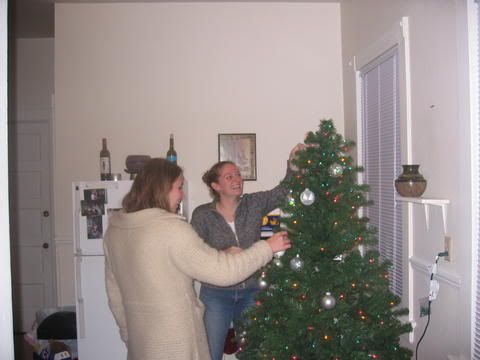 Strolling back to our apartment, Nikki and Karen helped me to decorate the tree (keep in mind, they're Jewish) while Adam showered, and within an hour we had the tree decorated and we were ready to head out again for the night.
I got up Friday with a bit of a hangover, but had to put on my "A-Game" quickly as there was much to do back in Burlington that day. It was December 2nd, the day of the Burlington Area Christmas Parade, and Christy's Bridal had float number 35 to assemble. My dad spent the morning drilling and hammering, while my mom and I dressed the manequins and fluffed the trees. We closed down the shop at 5:00, pre-partied in the salon with some champagne and hot cocoa and whiskey, then dressed and headed down to Kane street to line up.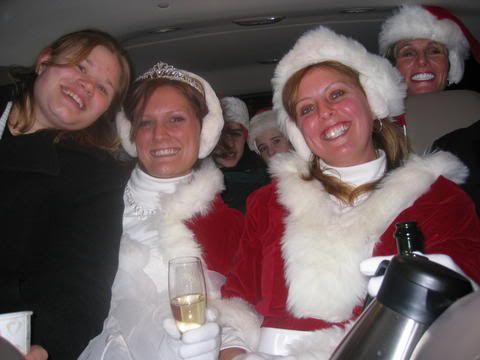 It was REALLY cold outside but the adrenaline of the parade kept us all really warm (plus I'm sure the whisky helped). At 6:30 the parade began to move, Steve and I hopped onto the float while Patty and my mom walked (read: sprinted) alongside the float handing out candy to the little mittened hands along the parade route.
Steve and I danced the night away but unfortunatley half way through the parade we lost power, including our music. We improvised though, and laughed while we danced to nothing but the hoots and hollers from the crowd.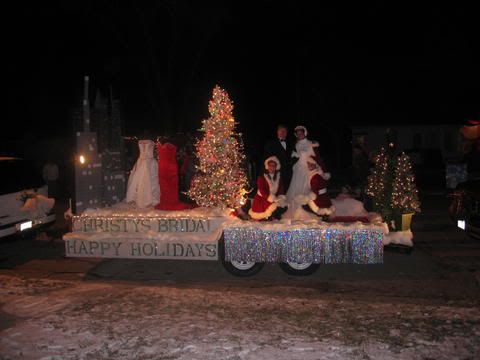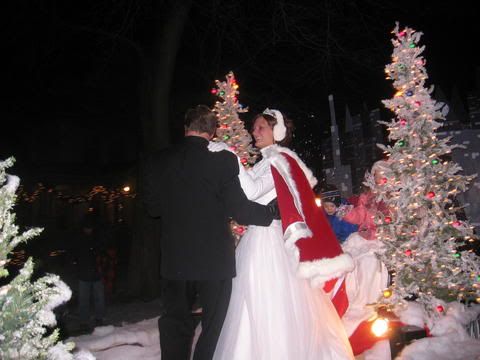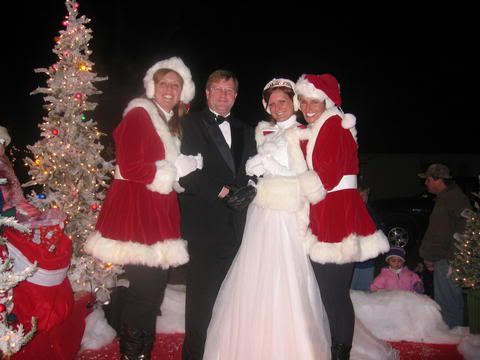 Saturday was a very much needed recovery day, as can be expected, I was CHILLED to the bone after being outside in the freezing cold in nothing but a wedding dress (and a few layers). Due to the snow I was stuck in Burlington, so I spent the evening watching Christmas movies with my mom, and relaxing in a hot, HOT bath.
Sunday came, and my parent's apartment was filled with people by 10:00. It was time for our anual Christmas cookie baking get together. The girls bake, while the kids decorate (I get to be included in the kids portion of the get together) and about 6 hours later I left with 4 plates full of FABULOUS cookies. I love cookie baking time =)
You'd think with a festive weekend such as mine I'd be a little burnt out on the holiday season but I'm most definitley not. The ground is white, the lights are bright, and music is still magnificent! I'm cheerful as ever and am looking forward to the coming weeks.
St. Nick comes tonight everyone! Horray! =)